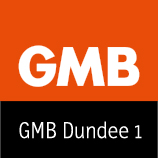 GMB Dundee 1 Branch covers everyone that works in Dundee City Council, Angus Council, Perth & Kinross Council, Leisure & Culture Dundee and Taysdie Contracts.
We have thousands of members across tayside doing a wide variety of jobs.
The Branch is made up of GMB reps from each employer.
Your Branch Secretary is Jim Cunningham.
Your Branch President is Martin Will.
As we update this website we will have every GMB reps name and contact details as they are the ones that work every day to help our members.
We provide advice, support and representation as well as organising campaigns and negotiating to improve and protect our members pay and terms and conditions of employment.
Anyone in employment has a legal right to be a member of a trade union and to be represented by GMB.